INUA'S VOICE BUMBLEBEE
Dutch Junior Champion
NAME: MAYA
DOB: 07-05-2020
DNA CERTIFICATE
HD: A norberg value 37.5
EYES: Clear 2022
PN: Clear by parents
LC: Carrier
WEIGHT: 30 kilos
HEIGHT: 55cm
TEETH: Complete scissor bite
LITTERS: 1: 5 puppies 2023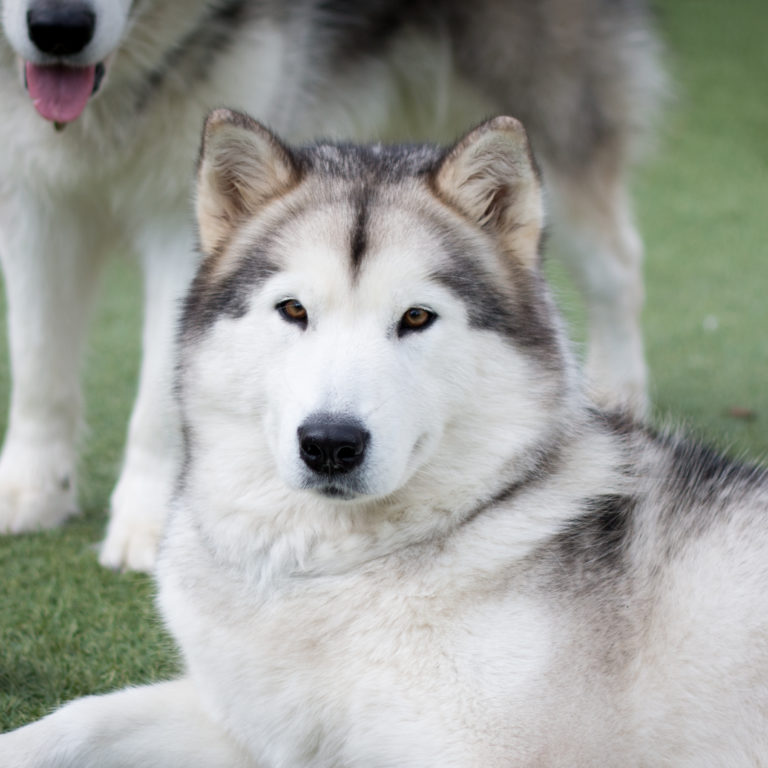 Maya is a daughter of Nevi x Jon Snow and she is Prime's sister.
Maya is always a happy girl, little clown she is. She has a lot of energy and has a really good work drive, she is our little diesel tank in the team.
She is very sweet and likes to cuddle very much. She thinks she is a big girl but she has a little heart.
Maya loves to play with her brother Prime and with her father Jon. She became a mother in April 2023.
TITLES:
2x BEST MINOR PUPPY '20
BEST JUNIOR AMCN online show '21
BEST JUNIOR AMCN clubmatch'21
2x BEST JUNIOR in show
1x BOB
1x BOS
2x RESERVE BITCH
3x CAC
3x RCAC
1x CACIB
IDS Zwolle
First show at 4,5 months old
Beautiful bitch of excellent size and type, is still developing, but good bone and substance for age, attractive female head with good eye and pigment, good
tail carriage, well angulated front and rear, good movement for age, like to see her back when she is older.
Judge R. Doedijns (NL)
BEST MINOR PUPPY
IDS Maastricht
5 months. Correct type, size and bone. Correct head. Good neck. Topline still in evolution.
Correct chest development. Correct proportion of body. Good condition of coat. Correct movement.
Judge I. Ingraffia (IT)
BEST MINOR PUPPY
AMCN online show
11months old
Bitch with breed typical appearance and head.
Sufficient bone and body in proportion, head with good muzzle, stop, medium brown well placed eye and well placed and carried ear.
Judge N. van Burik (NL)
BEST JUNIOR AMCN online show
Outdoor Zeeland
13months. Beautiful female type. good head. complete scissors teeth. good eye. good top line. good tail set. Quite deep chest. good angulations front and rear. nice coat. extensive flowing gait.
Judge I. Hectors (BE)
BEST JUNIOR / RESERVE BITCH / RCAC
Pinkstershow Gorinchem
15 months. Scissor bite, female head, good skull. Dark eyes and good ear set. Nice neck, tight back. Deep chest. Good angulations, good bone. Stands for a little french. Correct gait. Good tail carriage.
Judge N. Deschuymere (BE)
RESERVE BITCH / RCAC
Outdoor Zwolle
15 months, good breed type, well shaped strong female head. Well filled
powerful muzzle. Complete scissor bite. Nice eye good ears. Good
expression. Good body. Powerful bone. Good tail and coat. Goes through the ring easily.
Excellent
Judge R. van Veen-Keur (NL)
BEST JUNIOR / BEST BITCH / BOB / CAC
IDS Maastricht
Nice size bitch, attractive type, good head proportions with beautiful and good
worn ear, scissors bite, beautiful dark eye, good neck, backline, with well worn
tail, correct angulations front and back, may be a little higher on legs, matching bone with
correct foot, walk good in balance, good ring behavior.
Judge E. Upmeijer (NL)
BEST JUNIOR / RESERVE BITCH / RCAC
IDS KV Rijnland
Almost 2 yrs. bitch with beautiful breed typical head. Eye could be a little darker. Correct in body, angulations. Good bone and tail carriage. Excellent temperament. Smooth and powerful gaits. Excellent
Judge T. Hensema (NL)
BEST BITCH / BOS / CAC / CACIB
AMCN Specialty 2022
2 years. medium sized bitch. slightly longer than high. has a feminine head with typical expression. nice width in the skull. small, triangle -shaped ear. dry muzzle. scissors teeth. strong neck. straight topline. good tailset and action. she is evenly angulated in front and rear. fitting bone. strong feet. good coat. with movement good take-off from behind. sufficient stability. excellent coat structure and presentation.
Judge R. Douma (NL)