ARCTIC VOICE KICK ASS
NAME: FINNE
DOB: 04-10-2013
DNA CERTIFICATE 
HIPS: HD A, Norberg value 40 (Excellent)
EYES: Affected
PN: Clear by parents
LC: Non Carrier
WEIGHT: 37.8kilos
HEIGHT: 62.5cm
TEETH: complete scissor bite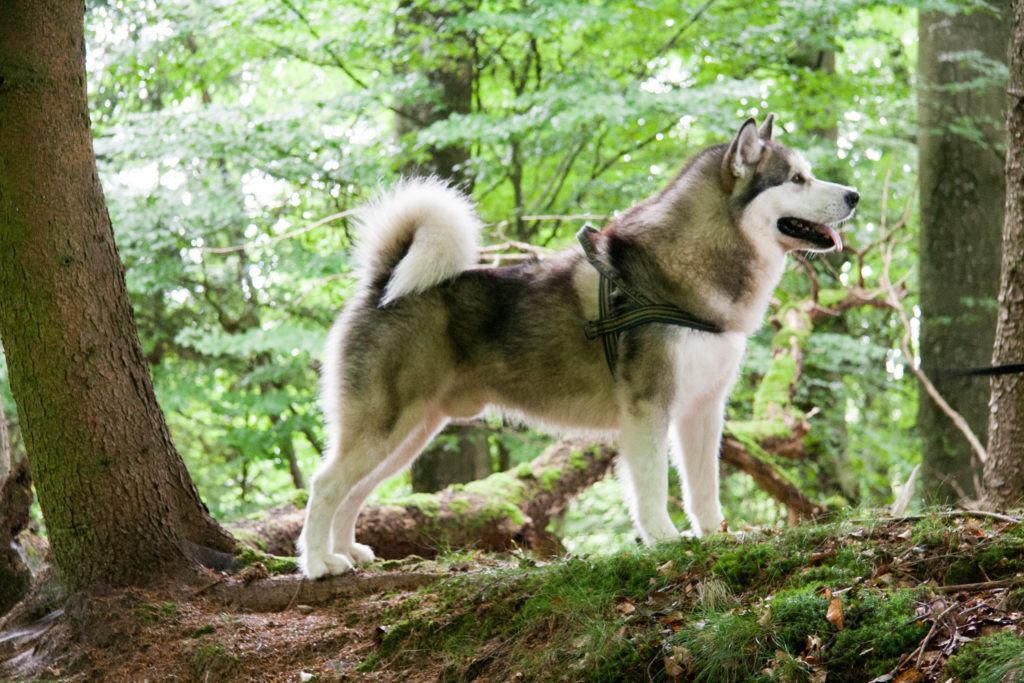 Finne is a great malamute, a lead dog in training and competitions. He likes speed. Works well in a team but he also finds it fantastic to work together with Corné. Our first dog so a bit more spoiled, sometimes he find the attention one on one very nice. We work and show with him but he doesn't like show, working is his pleasure! On the puppy class and elementary obedience class Finne showed excellent behavior and stood out above the other dogs. Finne is a real male, he is very good with other dogs, he only shows himself with dominant males. Finne has a good, sweet, gentle and reliable character. He knows the dog language well. He helps us with the education of our new dogs / puppies.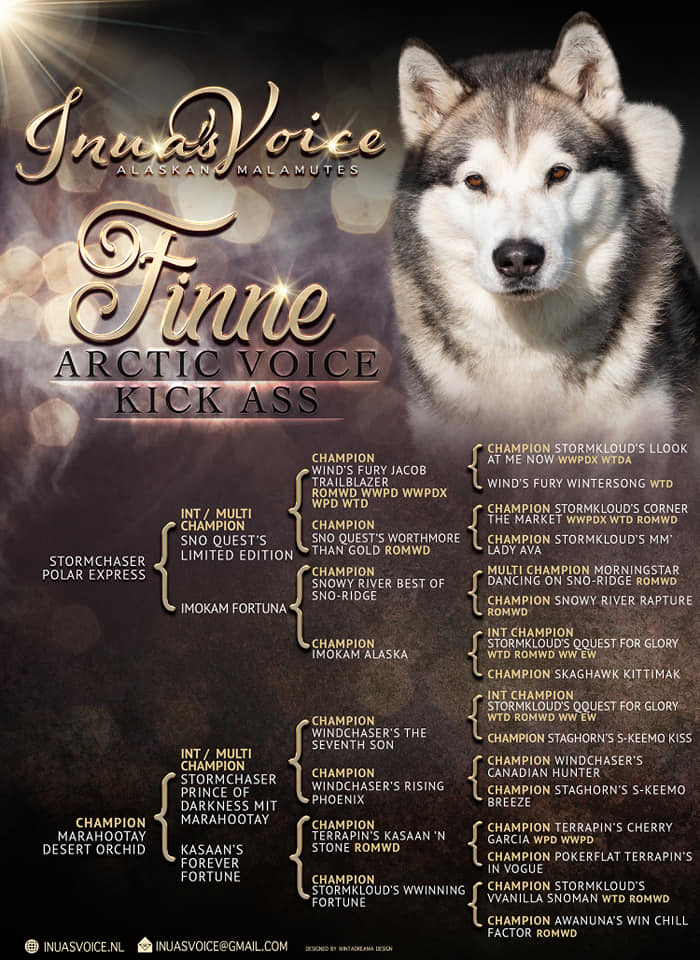 TITLES:
BOB 1x
Reserve Male 2x
CACIB 1x
RCAC 2x
RCACIB 2x
AMCN Specialty 2019 Judge Elly Weijenborg (NL)
5 years old. Great size, powerfully built. Powerful wedge-shaped head. Nice broad skull. Great stop, nice eye. A little lip. Strong neck. Breed typical, slightly sloping top line. Some long but well placed and sturdy ear. Good chest depth and rib arch. Enough front chest. Harmonically angled. Greatly put-on feather tail that is worn a bit too much over the back. Good bone. Sufficiently strong foot of the snow shoe type, may be slightly stronger in the wrist. Smooth but a few short courses. For some loose. Excellent, sturdy double coat. Great ring behavior.
3EXC.
AMCN Specialty 2018 Judge Sharon Loades (UK)
Lovely size male of good balanced proportions. Ears slightly large. Back skull okay. Nice dark eye. Could be more obliquely set. Good head proportions with muzzle and back skull. Excellent pigment. Strong neck. Well laid shoulders with good forechest and balanced upper arm. Good bone and feet. Strong pasterns. Good chest depth. Lovely topline. Strong loin. Nice broad thights. Excellent harsh coat. Hocks ok. Good tail set. Moved soundly all ways. Lovely balanced side gate. When he settled no interference underneath. Very firm topline on the move with strong back. 
EXC.
Judge G. Pedersen
4years old, good balance & excellent breed & gender. Very good expression. Good topline, great front. Good angulations & fur structure. Excellent movement, scissors teeth, friendly behavior.
EXC.
Judge E. Upmeijer (NL)
male 3,5 years old. Powerful male, of excellent type, excellent compact, excellent muscling. Head in good proportion, masculine, excellent eye, somewhat large but well placed ear, scissors teeth, strong neck, strong back. Excellent chest depth. Want to see a little bit more front chest. Breed typical angulations, matching bone and good foot. Great tail and gestation. Coat of good structure. Runs smoothly with good stride length and thrust. Great temperament and well presented.
EXC.
Judge M. Clancy
2 years. Typical breed type. Good outline with balance. Correct head+expression. Correct front + topline. Good rearangulation. Moves with purpose+drive
1EXC. RESERVE MALE, RCAC, RCACIB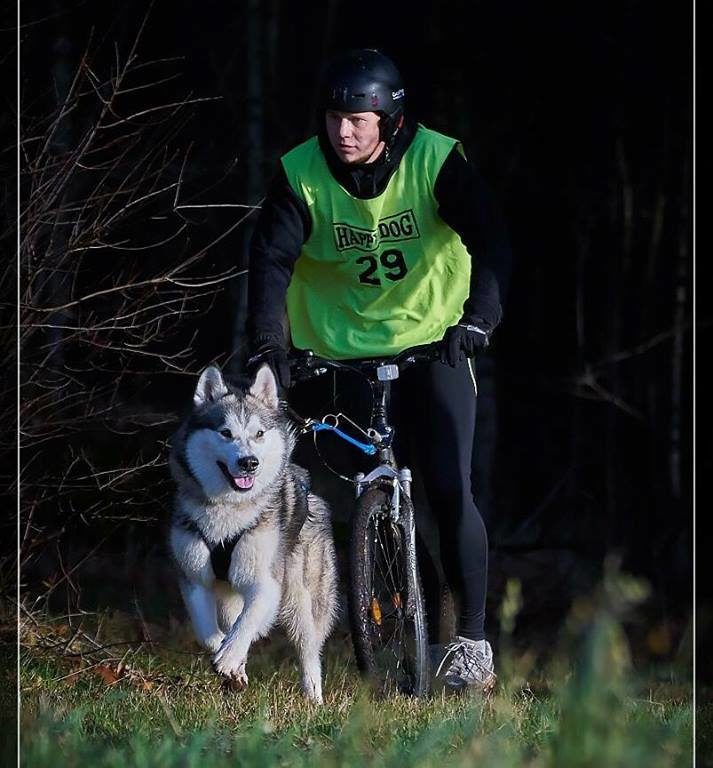 Dryland races from 2015 to the present
DS1:RR2
1st place 4x
2nd place 6x
3rd place 5x
DS1: allround
1st place 1x
3rd place 2x
DS2:RR2
1st place 1x
2nd place 2x
DR4-2
3rd place 1x