WHITEWALKER NORTH O' THE WALL
Name: Jon Snow
DOB: 02-06-2018
Hips: HD A, Norberg value 37,5
Eyes: Unaffected 11/2019 – 11/2020
PN: Clear
Long Coat: Carrier
Weight: 35 kilos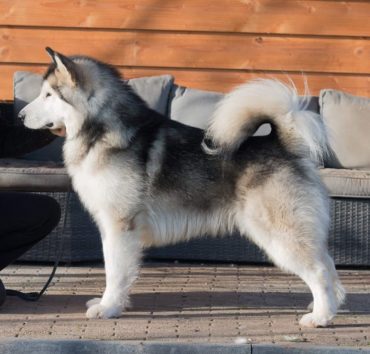 Jon Snow is a fun, sweet and enthusiastic malamute. Jon Snow fits very well in our pack, he loves to play with you and the ball. Likes to cuddle and love people. He passed the puppy class and it went very well. Jon has a high energy level and really loves to work/run. He just goes ahead no matter how heavy. He does some tough talk to other dogs because he is a bit unsure. He is happy to be with you, inside or outside the house. We work and show with Jon Snow. Finne has a good influence on Jon Snow and teaches him everything. Where Finne is is Jon Snow. He is very happy with Finne and really sees him as his big brother.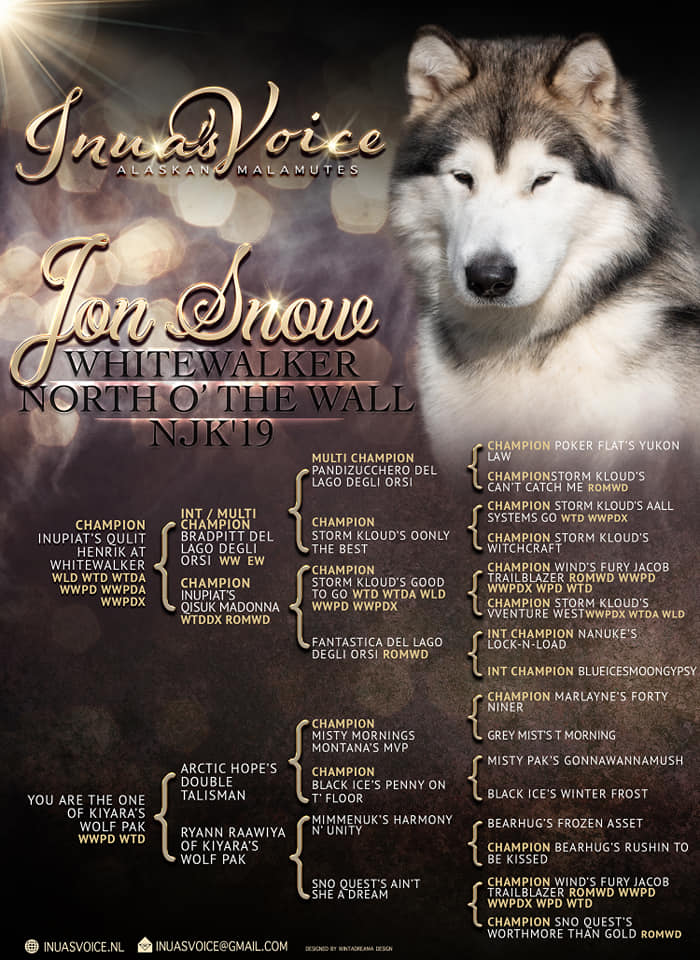 TITLES:
DUTCH JUNIOR CHAMPION (NJK'19)
BOB 1x
Reserve Male 2x
Best Junior 2x
Best puppy 1x
CAC 2x
RCAC 2x
RCACIB 1x
AMCN Specialty 2019 Judge Ellly Weijenborg.
11 months old. Great size. Great body proportions. Powerful, wedge-shaped head with a broad skull. Beautifully shaped but slightly light eye. Slightly long but well placed and worn sturdy ear. Great neck. Good angulations. Sufficient fore chest. May still win something in chest width but already good depth. Well applied and worn feather tail. Nice bone. Powerful snow shoe type. Sturdy double coat. Easy corridors with good thrust. Well presented and super friendly ring behavior.
CHIRSTMAS SHOW Venray 2018 Judge Mw. H.M.A. Liebrand.
6 months old male. Already beautiful male head. Correct dark eyes. Scissor bite. Nice neck length. Good chest. Great bone and feet. Correct size angles. Good tail and gestation. Movement still under development. Excellent fur. Friendly, happy character. Great ring behavior for age.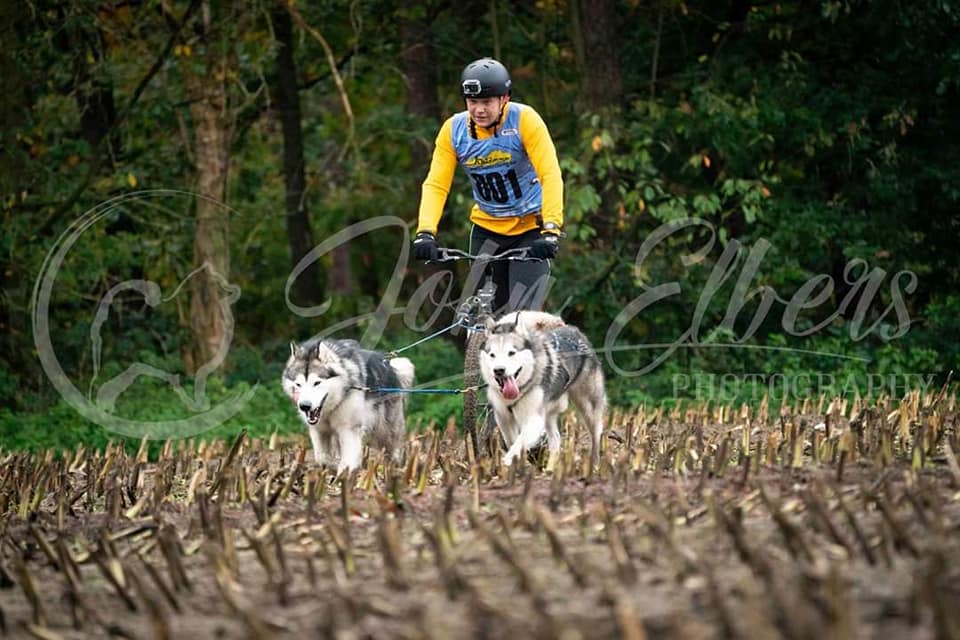 Dryland races from Oct 2019
DS2:RR2
1st place 1x
2nd place 1x
DR4-2
3rd place 1x